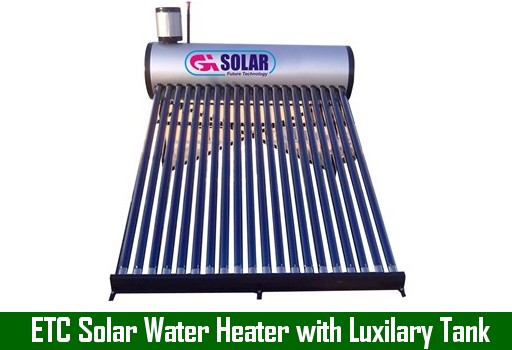 SOLAR WATER HEATER ETC MODLES with Auxilary Tank
ETC : Evacuated Tube Technology with TPT : Maximum Tempreture Treated.

Models :
Outer Tank : Poweder Coated & Inner Tank : Stainles Steel 316L grade
Meets MNRE specifications
G SOLAR Water Heater: Energy_ friendly, eco-friendly, user-friendly solar water heater with
state-of -the art technology. G SOLAR water heatrs give hot water, round-the-clock, to you and
your family.
Working Principle : When the Sun's ray strike on the collecter, maximum energy is absorbed and
transformed into heat, which is conducted to the water flowing in the riser tubes. The water is
circulated to the storage tank and continues to recirculate, till evening. The circulation takes place
through the process of natural convection (Thermosyphoning).
Feachers and Benifits :
Long Lasting Quality

You will get Hot Water without electricity or any other fuel.

Reliable Service.

Power Saving, Economical.

Superir technology operats in cloudy climate.

Disigned with sacrificial anode, operates in hard water also.

Rising electricity rates makes your investment even more attractive

Storage tank usessuperior PUF insulation to minimize heat losses

The water remains hot for longer time

Reliable hot water for 300 day a year

Competative priceing with advanced technology

Equipped with an inbuilt electrical heater when the solar radiation is insufficient

Mimimal maintainace

Sturdy and robust construction.