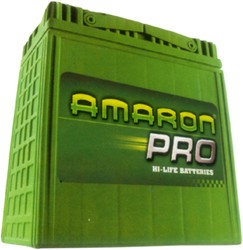 Amaron Batteries
AMARON Batteries are capable of giving higher output, these batteries are
known for their high performance. Manufactured by experts at our factory,
these batteries undergo stringent inspection before being dispatched to the
clients.
Checked for their quality and performance, these power back up products are
being use in various inverters. These AMARON batteries that we offer assure 4
to 5 years of hassle free life and have 2 years of warranty.
The varied specifications and features of our tubular batteries includes :
    Ensures longer working life

    More back up time

    Competitive prices

    Charging discharging cycle and life of the tubeler battery has two-three
times more then standard battery