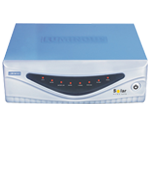 Luminous UPS
January 25, 2014
Category:UPS
The reality of Indian households and offices is that they are highly reliant on electrical power; yet
not assured of uninterrupted supply. A quality uninterruptible power source can bridge the gap.
Home UPS are devices that convert the direct current (DC) of powerful on-board inverter batteries
to alternating current (AC) for running fans, lights and other electrical appliances.
Luminous' world-class Home UPS and Inverter Batteries are market leaders in India—and will soon
be available across the globe—thanks to years of research and development focused on customercentric
innovation. Luminous power backup are used in a wide range of applications, from
household appliances to commercial applications.